A tropical storm named "Emma" with wind speeds equivalent to a category 3 hurricane has been
thrashing
Germany, Prague, Vienna and other parts of central Europe, stunning residents across the continent:
Europe began feeling the effects of Emma late Friday night, according to Deutchscher Wetter Dienst (DWD), Germany's national weather service.

Wind gusts of up to 190 km/h (118 mph) -- the strength of a Category 3 hurricane -- were clocked in the higher elevations of Austria, Corriveau said. Sustained winds as of Saturday night ranged from 50 km/h to nearly 80 km/h (31 mph to 50 mph). Winds were clocked at 98 km/hr (61 mph) in Denmark.
Eight deaths have been reported, with many more injured, including a passenger bus blown o
ff the road in Bavaria and a child killed by a falling tree north of Prague. Air traffic has been disrupted from Amsterdam to the East, as the powerful storm cuts through Central Europe.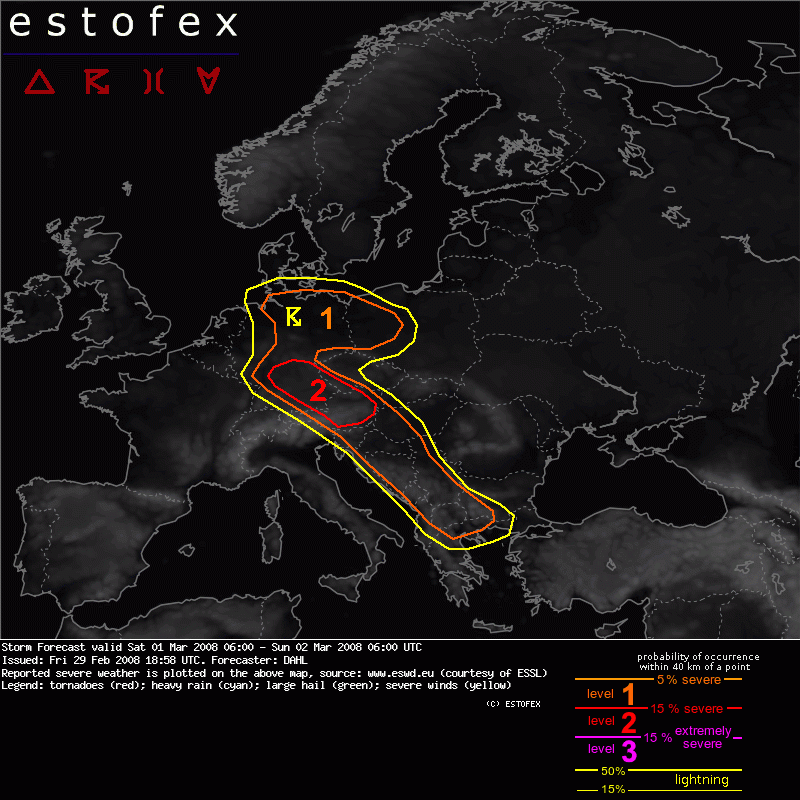 The
ESTOFEX
(European Storm Forecast Experiment) Forecast.
The respective governments have called for their citizens to stay inside until the storm passes, after which the damage and the scientific explanation for a tropical storm with hurricane force gust in the higher elevations of Central Europe will be assessed.
Here's the
Reuters
report.


The storm appea
rs to have developed from a front that came off of the Eastern U.S. and then held formation across the Atlantic. From an observer in the Czech Republic:
"...instability developed ahead of cold front, which combined with strong frontal forcing and extreme wind profiles gave birth to squall line with bowing segments which hit many countries in Middle Europe. Damage path was enormous and wind gust measured up to 40 m/s in places."